First of it is important to know that bum marketing was the ORIGINAL method to create wealthy affiliate success way back in the early 1999 days on the internet. Back then it was incredibly easy, and ridiculously full of opportunity and made many millionaires. The way it was done back in those days is the same as how you would do it today, in the way of content creation. But the Methods to create and distribute the content has made a multitude of turns.
What is Bum Marketing ? How Does It Work.
Find A profitable Subject/Niche
Create Quality Engaging Content
Distribute Content To Free Resources
Build Authority To Your Distribution.
A basic breakdown of what bum marketing is, simply a way or multiple ways to find and develop FREE ways to develop target market traffic to present offers of sale.
Looking into finding a profitable subject that has buyer intent is something that has only been on the increase over the 20 years of World Wide Web. And the demand for more is increasing on a daily basis. Back when I started with zero money down, I started with the advice of the bum marketing king of that error. Who was also a product creator in a niche that was strikingly relevant to my life at the time. It was an info product to help with relationship problems. Being a worldwide problem there was and still is plenty of $$$ opportunity in that specific subject. And today I can assure you for bum marketing in 2019 and beyond this one niche that is evergreen has grown more and more specific target audience's to make it easier to build an audience around. Other big evergreen niches are: Diet/Weightloss, Money/Finance, Health And much more all with a breakdown into sub niches.
The most original bum marketing method was to create a FREE blog around your subject with a product ad placement, then write article's and submit them to high traffic, and high google ranking websites ( and wolaah ) you will, if your content is engaged on the emotion's of your audience. Start to get traffic which lead to conversion's. When I started, I discovered there was no need to make my own blog, as I could perform a 301 redirect from inside my domain provider, and I purchased a domain for 99 cents:) and my leads could go straight to the sales page. A couple of these domains I purchased, are still in my itinerary and RANK in the major search engines from SEO and Learned from my Wealthy Affiliate Success training.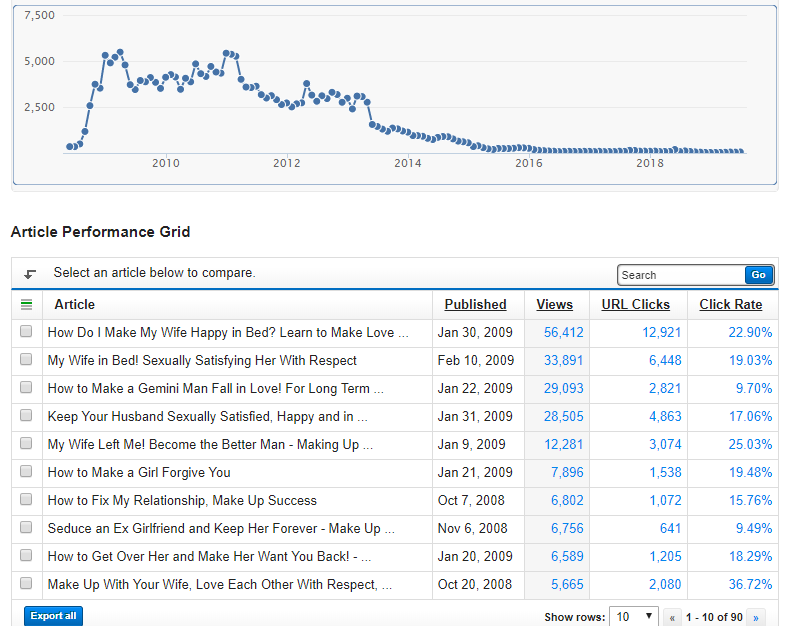 As you can see from the image above, I started writing to article sites in 2008. And you can see the click rate stats to be of high average:) as the triggers in this market are common among most of us. And people searching for this content are in a high state of "wanting" to have their problems solved. Other "Hot Topics" for bum marketing are.
Diet and Weight Loss
Make Money Online
Pets
Health & wellness